Focusing on Zambia, our study acknowledges the importance of the informal economy in Africa and puts forward structural recommendations for making it more competitive.
______
For a long time, the primary importance of trade has been regarded as a key element of the sustainable development of developed and developing countries. Inspired by trade gains, countries have long adopted export-oriented and export-oriented development methods to restore domestic and foreign economic stability and improve resource allocation efficiency.
Trade liberalisation is seen as a means to achieve industrialisation and modernisation by ensuring economies of scale, market access, and trade expansion. However, the relationship between trade policy and the informal economy is vague and heterogeneous among countries. Evidence from some countries suggests that trade reforms may expose formal enterprises to fierce foreign competition, thereby increasing the share of informal employment in the labour market. Others found no trace of this relationship.
The impact of trade liberalisation on the informal economy has been extensively discussed at the empirical and public policy levels, but Zambia had never done it empirically. In our study titled, The impact of Continental Free Trade Agreements on informal employment in Africa: A case of the manufacturing industry in Zambia, we see that women, young, and less-educated workers in rural areas are more likely to be informal. Our main findings also indicate that trade reforms have a positive relationship with informality in Zambia. This means that the impact of reducing or eliminating tariffs is the subsequent reduction of informal work and trade. Thus, trade reforms to lower or eliminate tariffs lead to a natural formalization of the informal economy in Zambia. The benefits of lowering tariffs vary greatly in economic, social, and even behavioural aspects. For example, lowering tariffs may help reduce or curb illegal activities such as smuggling and tax evasion.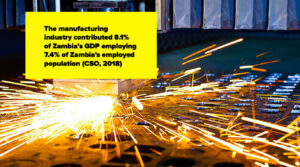 In addition to creating new business and employment opportunities, a reduction in tariffs may also help recover small businesses for which tariffs were too high to survive, leading to unemployment, poverty, and higher informality. It is also worth noting that conditions such as an educated and informed society, a well-integrated policy framework, and the revision of non-tariff barriers will be vital for the success of the AfCFTA. Taking our suggestions into account, the implementation of AfCFTA is welcome as it is greatly beneficial to Zambia.
What needs to happen
Among others, the research makes the following recommendations to ensure informal workers in Zambia benefit from the AfCFTA:
Beyond the formalization of the informal sector
Since the informal economy is an important employer in the labour market in Zambia, it is suggested that with the help of stakeholders (i.e. trade unions, informal association organisation), the government should be lobbied to implement new mechanisms to attract the informal economy into the mainstream business community. Among the mechanisms that can be used to increase the competitiveness of the informal economy and promote its formalisation, the following suggestions can be made:
Simplifying the rigid regulations
Boosting the spirit of entrepreneurship through widened vocational educational training or financial training. encouraging the micro-finance institutions
Reforming the tax systems for these medium and small enterprises
Encouraging the extension of collective bargaining to the informal economy to ensure that informal economy workers' rights are protected and respected
Increased sensitisation and social dialogue on the AFCFTA
We recommend that government officials and experts engage in social dialogue with formal and informal traders and manufacturers to ensure Zambia's effective participation in regional trade negotiations.
Reform labour laws
The study establishes that Zambia's economy largely comprises a large informal economy group characterised by a weak regulatory framework. Particularly, labour legislation was identified to be restrictive, where freedom of association was undermined by restrictive provisions. It was also noted that the main labour legislation only covers formal sector workers. It was further noted that despite other legislation, such as the National Pensions Scheme Act, Employment Act, Workers Compensation Act and the Minimum Wage Act providing for informal economy workers, compliance and enforcement remained weak. In this regard, reform of the labour laws and social protection system was emphasised especially in extending the provision of social security coverage to informal economy workers.
Establish rights offices
Establish rights offices or appoint a defender of labour rights in the informal economy to promote better application and extension of legislation to workers and producers in the sector. One way is to set up "one-stop" information advisory kiosks for the informal economy workers at the ZCTU for the effective dissemination and sharing of information on labour rights and reforms, organizing strategies and education.
Financing of informal economy enterprises
The study has established the need for financing as one of the main priorities of micro and small entrepreneurs in the informal economy in Zambia. There are very few informal enterprises that can obtain credit from banks since they have no collateral to offer as a guarantee. Another important issue for enterprise activity in the informal economy is property rights collateral. The absence of legal property rights, including intellectual property, means that potential entrepreneurs are not able to use, build, recombine or exchange their assets most productively to generate additional value. This needs to be addressed.
Promotion of informal economic organisations by Trade Unions
At the business level, the Zambia Congress of Trade Unions (ZCTU), should engage in simplifying, coordinating and developing further existing activities such as promoting informal economic organisations. The employment promotion strategy should focus on areas of intervention such as lobbying the government and the private sector to create an enabling environment for employment promotion, establishing appropriate institutional settings within the labour movement and like-minded organisations, including organisations and operators in the informal sector, and developing comprehensive service delivery ways to integrate credit and savings schemes or strengthened cooperatives.
Trade union recruitment and collaboration with the informal economy
Zambia Congress of Trade Unions (ZCTU) Membership by Sector, 2021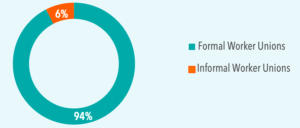 Most informal workers do not have the right and protection to organize and profit, and there is no traditional collective bargaining forum. Since collective bargaining is a decisive feature of trade union work, this brings special challenges to traditional Trade Unions. For self-employed workers such as street vendors or scavengers, there is no employment relationship, or the employment relationship is unclear or disguised, such as for many domestic workers. Some Trade Unions hold a narrow view that these workers are not within the scope of trade union organizations. ~ Zambia case study
Although this study confirms that lower tariffs may lead to lower informal employment, the structural feature of informality will not easily wither away in the manufacturing sector in Zambia. This implies as the government shift policy there is a need to recognise the economic value of the informal economy. This implies there is a greater reward in increasing their membership if trade unions could organise the informal economy workers. It can be done by enhancing the socio-economic strength of informal economy workers. It is anticipated that this could ultimately lead to:
Greater productivity and higher income through economies of scale and scope, and through the division of labour (e.g., carpenters -sawing, assembling, varnishing, etc.).
Cost savings through sharing services, such as transport, raw material supply, marketing, energy and water supply, and many others.
Increased income or reduced costs through greater bargaining power generated through collective economic action, closely related to the "shared service" model
Higher and more stable income through better market access.
Access to financial services through credit unions and a plethora of informal and formal micro-finance institutions, such as rotating savings and credit associations.
View the full report | Trade Unions and Trade: The impact of Continental Free Trade Agreements on informal employment in Africa: A case of the manufacturing industry in Zambia