How to ensure our trade agreements reflect decent work, a crucial aspect of development that will deliver pro-social trade outcomes.
What is a free trade agreement?
A Free trade agreement (FTA) is an agreement between two or more countries to reduce barriers to the import, export or trade of goods and services across borders.
Infographic: What is a free trade agreement?
How many free trade agreements are there? 
The World Trade Organisation (WTO) includes provisions for free trade agreements and Customs Unions that set rules for negotiating. In 2016, more than 400 FTAs were with the WTO. In principle, every country can negotiate a free trade agreement. Rich countries with large domestic markets are more active in seeking to conclude FTAs.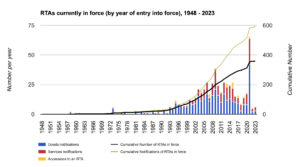 Source: WTO Regional Trade Agreements database
What can a free trade agreement cover?
Trade has grown significantly, driven by advances in transportation and digital technologies. Free trade agreements aid in expanding the global market by reducing various trade barriers. An FTA can cover a range of areas, including trade in goods, trade in services, intellectual property, investment, competition, women and youth, digital trade, labour, and environment and climate.
Which are the largest trade agreements in the world?
The four largest trade agreements in force today are the African Continental Free Trade Agreement (AfCFTA), the European Union (EU), the United States-Mexico-Canada (USMCA) and the Regional Comprehensive Economic Partnership (RCEP).
Why should trade unions care about FTAs?
Trade unions should pay attention and get involved in discussions about free trade agreements. FTAs can shape the economic, social and labour landscape of countries and regions.
Infographic: Why should trade unions be concerned about the AfCFTA?

Presentation: Thinking about labour provisions
What trade unions need to look out for in trade agreements
Demand participation in negotiations to achieve more balanced trade agreements. Invest in research and capacity building. Develop common positions and strategies to respond to proposed trade agreements.
Here are some suggestions (based on ITUC Trade Union Guide to Bilaterals) on for ensuring that our trade agreements reflect decent work, a crucial aspect of development that will deliver pro-social trade outcomes.
Content of the agreement:
Know what is being negotiated and proposed in each area. What are your country's and other countries' demands and positions in the agreement? What are your government's proposed commitments? Identify potential organisations and stakeholders to share information with.
Formulate a statement or trade union position on the proposed agreement after analysing the proposals based on the potential gains and losses for the economy as a whole and workers in particular. Communicate the alternative proposals to governments and citizens.
Ensure that alternative proposals mainstream gender. Women traders and entrepreneurs are the most vulnerable to the negative impacts of trade agreements.
Be on the lookout for across-the-board tariff cuts on a line-by-line basis. Which tariffs will reduce and which will be maintained? What is the likely impact on the domestic industries in relation to production and labour?
Assess Non-Tariff Barriers (NTBs) on a case-by-case basis. Some NTBs may be more trade restrictive than necessary and could be relaxed. But, many NTBs are legitimate measures to ensure product safety. Advocate compliance assistance for producers in affected countries rather than regulatory relaxation.
Be cautious about the "Singapore issues" (investment, competition policy, government procurement and trade facilitation). Any investment provisions should be balanced, providing investors with rights but obligations consistent with social, environmental, labour and development policies. Investment provisions should align with internationally accepted principles governing multinational enterprises.
Consider which sectors or sub-sectors will be opened to foreign service providers, and to what extent, concerning the liberalisation of services. What is the potential for increased service provision in your country? To what extent will domestic service providers be protected? The quality of, and access to, public services is essential. Once a trade agreement is signed, can governments influence "infrastructure services" (telecommunications, financial, postal, energy and distribution services, etc.)?
Avoid a negative list, top-down approach to services. A negative list approach automatically opens all service sectors to foreign service providers. Governments then draw up a separate list of sectors and sub-sectors to be excluded. Does your government have the capacity to identify areas for protection or liberalisation, and can it anticipate the country's future development needs?
The Least Developed Countries must continue to overcome long-term obstacles to growth. Will the concept of a Special and Differential Treatment be applied to ensure a level playing field for all participating countries?
Ensure pro-social trade outcomes in the agreement by advocating for sound labour provisions to support the decent work agenda.
Transition periods are essential. Workers and the economy can face harm if too much is liberalised too quickly and deeply. Consider your country's experience with trade liberalisation and be aware of the possible effects.
Large-scale trade liberalisation regimes have short-term disruptions that affect many areas, including tariff revenues. Trade agreements should have financial components that provide for the transfer of resources from the beneficiaries of an FTA to the losers. The AfCFTA Adjustment Fund is an example of a financial component in a trade and economic integration agreement.
Process of the agreement:
Insist on union input and consultation in the process of negotiating trade agreements. This should include information on the  progress of negotiations, details of government positions and how these evolve during negotiations, and exchanges of views and joint analysis of proposals, including union proposals.
Where possible, sustain trade union positions with research and employment impact assessments focusing on quantity and quality of employment.
Also read:
National centres briefing on the African continental Free Trade Area (AfCFTA) agreement | First Edition
Trade Unions and Trade: A Guide to the African Continental Trade Agreement
AfCFTA Protocol on Trade in Goods: Five key annexures for trade union attention